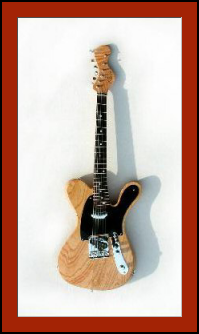 Bender JELLYCASTER
So far, this is a one-of-a-kind guitar. Worried that the Distortorcaster's extensive curves might put off some people, Brian turned his attention to making a more subtle instrument.
The 3D isn't missing from this model, it's just very cleverly done--and doesn't show particularly well from straight ahead! Carried over from the Distortorcaster are the "Fan" frets, this time on a plush rosewood fingerboard. This guitar is made from swamp-ash with a fabulously figured maple neck. Utilising some innovative machining on the tuners, a near perfect straight string travel from head to bridge is achieved.
Here, the same guitar,
in a "not quite finished" state
is seen here being played
by maestro, Jerry Donahue.