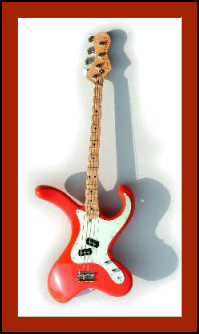 Bender COLLISION BASS
So that guitarists the world over who owned Distortocasters wouldn't look complete exhibitionists - Brian constructed the big brother the Collision Bass so that the band could look cool. (Fortunately - Brian hasn't turned his hand to drum-kits yet - Imagine what they'd look like??!!) Jerry Donahue's latest album features tracks played on the Collision by Ace of Bass and player - Scott Whitley.
To most owners of a P-Bass, the layout of the Collision will be immediately familiar. However, like the Distortorcaster, until you have played this guitar, you won't appreciate the comfort of the 3D "wrap-around" effect the body has. There is also a push/pull tone knob that functions as a serial/parallel switch. The neck is made from one piece of maple with 20 well finished medium frets, a "skunk stripe" on the rear holds the truss-rod in place. The photo doesn't really show the sculpting of the headstock - it is truly 3D!
Fiesta Red is the standard finish, but you can have what ever colour or type of finish your heart desires! Also, the standard pickup is a Kent Armstrong P-type, but again, this is another area where you can make your mark. The cost, a mere £1500 ($2500) for a hand-built bass made to your specifications, it has to be a bargain.