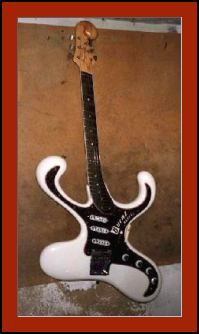 BURNT MARVEL
Originally to be built as a tribute to The Shadows... complete with Jet-O-Matic pick-ups etc. The original idea was scrapped and the instrument was reborn as the Burnt Marvel - name supplied by Brian's son (who was 7 years old at the time).
The guitar finally ended up with Rez-O-Jimmy pick-ups and hardware supplied very kindly by the Burns Guitar Company. The guitar caused a sensation at the '98 'Mad About Guitars' show in Birmingham. Jet Harris was there to greet the guitar. Sadly, whilst people from the company were enjoying the guitar, Jim Burns had unbeknown to all, passed away.
This guitar has a very strange, but serene aura.