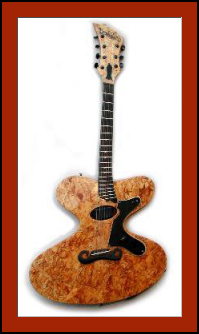 Bender BENDEDET-"O"
This is the latest creation from the Eastwood
imagination. It's safe to say, this is unique in the world of guitar construction. Featuring a Belcat 3-band EQ system (coupled with a tremelo!) along with a Kent Armstrong HPAE-1 humbucker--this instrument can sound like any guitar you want it to.
It has a sweet acoustic tone, unplugged and plugged-in! But when connected, the sheer choice of tones is bewildering. For the gigging musician, leave all your guitars at home and just take this on stage, it'll also help you get noticed!

Available, in whatever finish you like, as you may not like the OSB finish as much as Brian does! But you've got to admit, it's different.
The original model (illustrated) is now owned by a collector/dealer in the Wirral and has become part of an extensive, if slightly unusual, collection.
It would be a shame if this were to become a guitar just for the collector though, it really has a tremendous potential to change the way guitar is played on stage.