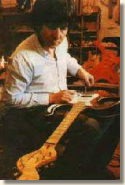 Brian, adjusting his own
Distortorcaster (a slightly
different take on the
standard model, having a
bound body-edge and an
experimental headstock
shape). Along with the
Rocket, this is Brian's
main instrument and is
often the first "victim"
of any new ideas.


Brian is one of the UK's top guitar builders and repairers with over 30 years experience. He can be found in Stacksteads - just north of Manchester in between Rawtenstall and Bacup.
Although rightly famous for his creations, repairs still take up a large portion of his working day. No job is too big or too small, he will happily cure your squeaky whammy bar, set-up your new Fujisama Twang-o-Blaster or refinish your '58 Les Paul.
However, Brian is never happier than when he's making a new guitar for someone. If you would like a unique hand-made guitar, built to your own specification, get in touch right now - you won't regret it!